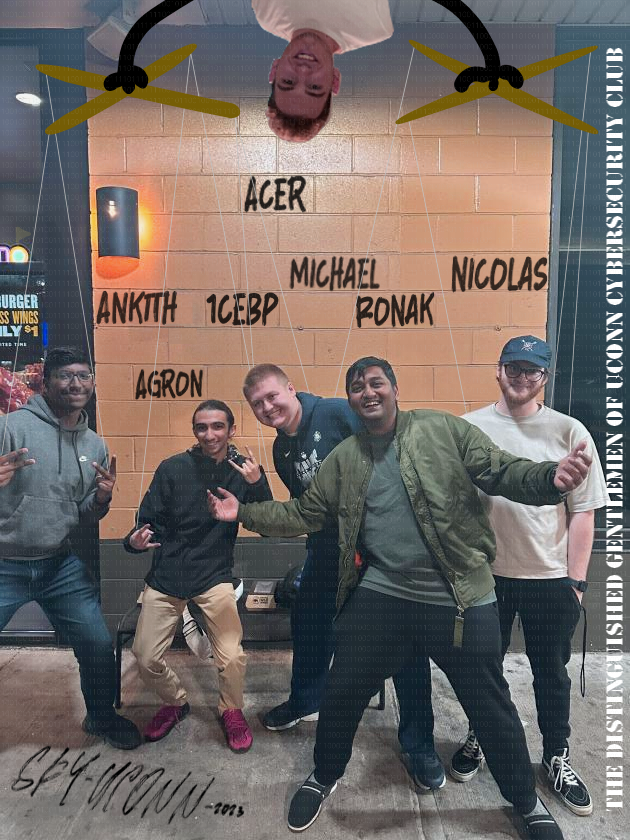 The Distinguished Gentlemen of UConn Cybersecurity emerged as champions in the standard bracket of the 2023 National Cyber League's Spring Team Game. Employing tactics that identify vulnerabilities in computer systems and thwart cybercriminals, they achieved an outstanding victory. The team of seven was formed from the 40+ member strong UConn Cyber student club and led by club president Ronak Sahu (CSE & Applied Math '23, returning for graduate school). Competing against university teams across the nation, the team tackled a series of simulated cybersecurity problems.
The competition served as a valuable opportunity for the club members to refine their cybersecurity skills and gain practical experience in addressing real-world cybersecurity challenges. It is a field many students aspire to work in as software engineers, responsible for safeguarding company machines and networks, which necessitates a deep understanding of computer systems that many people use without comprehending their inner workings.
While no team managed to solve all the problems, the UConn group solved 98 percent of them outright and made commendable progress on the remaining 2 percent.
One notable challenge required the team to breach a server belonging to Cyber Skyline, the competition's sponsor. By reverse-engineering the Cyber Skyline website and exploiting a code weakness, they successfully gained access to the server and retrieved a specific file. Another task required analyzing a photograph to pinpoint its exact location. Utilizing open-source intelligence techniques and image analysis, they successfully identified the location as Shibuya City, Japan.
They also excelled in decrypting and reverse-engineering malicious software concealed within an image, discovering its intent to mine cryptocurrency. Only 15 teams out of 3,000 solved this particular challenge, and the Distinguished Gentlemen of UConn Cybersecurity were among them.
Participating in the competition additionally grants team members points towards certification from CompTIA, allowing them to showcase their practical cybersecurity skills and experience to potential employers.
For full article, see UConn Today here.